Molecular Cloning Service Facility
A resource for the Stony Brook community since 2000
(over 2000 projects completed)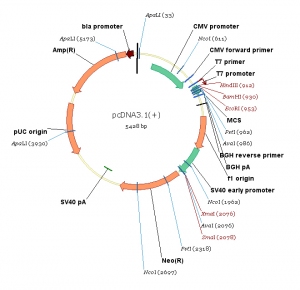 Options and approaches to your project would be discussed during initial consultation.
For investigators who bring their own design we review the design
and confirm that cloning can be performed as requested.
We also offer selection of the cloning and expression vectors from MCS library. (Link to vectors)
Costs of projects vary according to difficulty and options chosen.
For a member of the Pharmacology department
typical charge for a simple subcloning project ~$200
mutagenesis project ~$110
Non-pharmacology SBU and external users should inquire for pricing.


Design or Analysis Consultation Available On Fee-For Service Bases
Cloning strategy would be designed based on desired characteristics of the construct.
That would include selection of the vector, tags and primer design.
Insertion of tags into existing or new expression vectors
We can introduce HA, His, Flag tags by PCR or add fluorescent protein tag by sub-cloning.
Subcloning from target plasmid provided by investigator into new vector
Cut and paste method or using PCR.
Assistance by consultation to retrieve target cDNA
from Invitrogen cDNA library resource


Point Mutation
Using site-directed mutagenesis or "round the horn PCR"

Pilot studies for protein expression and solubility
Protein induction in bacterial expression systems,
gel electrophoresis and coomassie blue staining.
Plasmid transformation into commonly used bacterial cell strains
DH5a, BL21-DE3, XL1-Blue and XL-gold
Competent cells available
On fee for service basis

Typical times required for completion of services
Time will depend on complexity of the project as
discussed during initial consultation.
simple cut and paste subcloning can be completed
within a week.
mutagenesis 4-6 days after receiving primers.
Sequence verification analysis
As requested
---