Faculty / Research
Genetically modified mouse models of neuropsychiatric diseases: how does signaling by axonal NRG1 proteins regulate the development, maturation and plasticity of key cortical – limbic circuits.
Neuropsychiatric disorders affect a significant percentage of the population, placing an immense burden on patients, families and society. Although it is clear that there are complex genetic and environmental interactions associated with risk of developing these disorders, we know little about their actual causes; lack effective treatments and cures remain a distant goal.
My lab develops and uses genetically modified mice to study genes implicated in neuropsychiatric diseases with the goal of understanding of the products of these genes contributes to the etiology neuropsychiatric disease. We are studying how signaling by axonal proteins regulates the targeting, survival and functional maturation of subpopulations of neurons affected in schizophrenia. Our current focus is on two schizophrenia susceptibility genes, NRG1 and ERBB4. By combining our expertise in mouse genetic models, molecular biology and cell signaling, with the expertise in circuit electrophysiology of the laboratory of Dr. Lorna Role (Dept of Neurobiology and Behavior), we are able to use molecular, electrophysiological and behavioral approaches to understand the functions of NRG1 – ERBB4 in the development, maturation and plasticity of key cortical – limbic circuits.
The NRG1 gene encodes a family of at least 20 different proteins that serve as ligands for members of the ERBB family of receptor tyrosine kinases. The Type III subfamily of NRG1 isoforms stand out for a number of reasons: they are predominantly neuronal, they are membrane tethered rather than released from the cell surface; they are targeted to both axonal and dendritic compartments, and they both activate ERBB receptors and as function as receptors. Thus, the Type III NRG1 isoforms are bi-directional, juxtacrine signaling molecules that mediate interactions between Type III NRG1 expressing neurons and ERBB expressing neurons and glia. We are dissecting the contribution of each of these signaling strategies to the formation, maintenance and plasticity of excitatory synapse onto striatal neurons. Additionally, we are probing the role of NRG1 – ERBB4 signaling in regulating the cholinergic modulation of these synapses, both by studying the expression, axonal targeting and function of nicotinic acetylcholine receptors, and in the development of basal forebrain cholinergic neurons.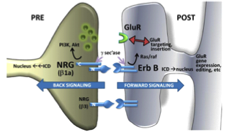 Fig 1: Illustration of our working model of NRG1 – ERBB4 bidirectional signaling at a glutamatergic synapse. Axonal Type III NRG1 binds to ERBB4 on dendrites, activating "forward signaling" pathways that affect the synthesis and / or targeting of post-synaptic glutamate receptors (GluR). In addition, the axonal Type III NRG1 stimulates "back-signaling" in the presynaptic neuron. In this context, Type III NRG1 activates local PI3K signaling and following cleavage by gamma secretase, the NRG1 intracellular domain is retrogradely transported to the nucleus where is regulates transcription.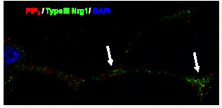 Fig 2: Neuron following stimulation of "back-signaling" stained with antibodies recognizing Type III NRG1 (green) or phosphatidylinositol 3- trisphosphate (PIP3; red). Clusters of Type III NRG1 and PIP3 are seen along the axon (arrows); the cell body is at the left (DAPI stained nucleus).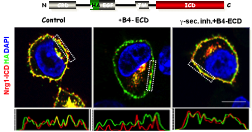 Fig 3: Confocal image (single 1 micron section in the z-plane) of Type III NRG1 expressing cell stained with antibodies recognizing either the extracellular (green, HA epitope) or the intracellular (red) domains of Type III NRG1. Extracellular and intracellular staining on the surface are largely co-incident under control conditions (left). Following interaction with ERBB4 surface the NRG1-intracellular domain is lost from the surface while the extracellular domain remains (middle panel). The release of the NRG1-intracellular domain is not seen when gamma secretase activity is inhibited (right panel).
I received my BA in Biology from the University of Virginia and a PhD in Genetics from the University of Minnesota after which I received post-doctoral training at the Rockefeller University and Harvard Medical School. At HMS I became interested in signaling by tyrosine kinase, focusing on the interactions between the mouse polyoma viral oncoprotein middle T antigen and the cellular src kinase. We were among the first to demonstrate that tyrosine phosphorylated by src were essential for the formation of signaling complexes, in this instance the assembly of the tumorigenic middle T:c-src:PI3Kinase ternary complex. After the post-doc years I joined the faculty at the Columbia University Medical Center. During my tenure there our work focused on the anti-oncogenic action of retinoids, demonstrating that these compounds activated transcriptional programs that blunted the amplitude of signals originating from ERBB receptor tyrosine kinases. We also demonstrated that in a number of cellular contexts, the closely related conventional protein kinase C isoforms; PKCa and PKCb had opposite effects on cell proliferation and differentiation. Our work was recognized by the ILSI Young Investigator Award, the DeWitt Goodman Award in Preventive Medicine Nutrition and a Career Development Award from the Program in Breast Cancer Research at the Herbert Irving Comprehensive Cancer Center. Starting about 12 years ago the lab began the transition towards understanding In early 2000 we collaborated on the successful generation of an isoform specific knock-out of the Type III NRG1 and in 2003 demonstrated that the Type III NRG1 isoforms were unique, bi-directional signaling molecules. With the demonstration that NRG1 was a susceptibility gene for schizophrenia the lab transitioned entirely over to studies of NRG1-ERBB signaling in the nervous system. This work has continued following the move, in 2007 to Stony Brook. In 2009 I was named the NARSAD Sidney R. Baer, Jr. Foundation Investigator.
A complete list of publications can be found in Here.

Current lab members (combined Role and Talmage labs in the Center for Nervous System Disorders):
Research Faculty
Yachi Chen
Young-Hwan Jo
Research Associates and Post-docs
Chongbo Zhong
Li Jiang
Jamie Emmetsberger
Gretchen Lopez
Srikanya Kundu
PhD Students
James Lederman
Marjolijn Mertz
Ifeanyi Obiorah
Shannon Loncar
Technical Support
Yehui Qin
Catherine Waddell
Undergraduates
Noel Joseph
Ying Tang
Wasif Iqbal
Frances Shi
Subo Deb
Zoe Simmons
Recent PhD Graduates (current positions)
Jasmine Chen (Post-doc, UCSF)
Madeleine Johnson (Graduate School of Journalisms, NYU)
Michael Lieberman (Medical Director, AgencyRx)
Melissa Hancock (Post-doc, Harvard Medical School)
Dianne Lee (Post-doc, Yale School of Medicine)
Sarah Canetta (Post-doc, Columbia University)
Edlira Luca (Post-doc, ETH-Zurich)
548 Centers for Molecular Medicine
631-632-8929