News & Events
Commencement 2020
2020 Conferral Celebration
Message from the Program Director
As I said in the letter recently sent to you, this semester, particularly the last several weeks, has been one unlike any other in my lifetime. Hence this posting is necessary, in lieu of our typical face-to-face convocation. For the graduating Seniors, let me first say CONGRATULATIONS!!! Congratulations are also due to your friends, family and particularly, your parents! As a parent myself, I am acutely aware of the pride of this moment and I am confident that this is just the beginning. Given the preparation that you the graduates have all received, as well as the considerable equanimity with which you have faced the highly unusual and most difficult circumstances that we find ourselves in currently, I am confident that you, perhaps most of all recent classes, are indeed destined for great accomplishments.

I ask your indulgence while I recount one story that I believe demonstrates the distance our students have all traveled during their time at Stony Brook. For several years, I have been teaching freshman seminars devoted to drugs, their discovery and development, and finally, to discussing their social context. In these seminars of 20 students each, the class is broken into eight groups of two or three, to give oral presentations on eight drugs or groups of drugs (e.g., nitric oxide-releasing drugs and the treatment of chest pain due to ischemic heart disease). These freshman seminars are held on Fridays. On Thursdays of each week, I follow exactly the same schedule with my Junior/Senior Pharmacology Colloquium Class, the same eight drugs or groups of drugs are also presented by eight groups of students, respectively.

The difference between Thursday's talks and Friday's is profound. Thursday's given by Juniors and Seniors in our Pharmacology Colloquium, are polished and professional, complete 45-60 minute presentations of all the many aspects of pharmacological studies that I introduce to freshman the following day. By comparison, the freshman presentations are short, rarely lasting longer than 15 minutes, full of mispronunciations, particularly of scientific terminology, superficial, and usually incomplete.

The thing I most noticed was that on Thursdays, I often learned things from the Junior/Senior pharmacology majors, particularly of a new or different nature, or from a new and different perspective, that I ended up discussing with the freshman classes on Fridays. Indeed, the graduating Seniors of the class of 2020 have come a very long way from the inquisitive but naive freshman who entered college four or more years ago. They have matured professionally and I am extremely proud to have played a role, however small, in their growth!

Good luck and best wishes!

Paul Fisher, MD, PhD
Director of Undergraduate Pharmacology

PS We propose to delay the customary Pharmacology convocation until such time as the University at-large holds its next formal face-to-face graduation. As we have done in the past, we will plan our activities around that. At that time, we will presumably have a chance to get together as a group along with various family and friends, and with the Pharmacology faculty and staff. I know that I for one am both extremely proud of all the student accomplishments and quite disappointed that we will not be congregating this month to celebrate. I'm sure that in this regard, I speak for all of the Department Faculty and staff associated with our Program.
Graduating Students
Anita Ho
"We did it guys!! Being a part of Pharmacology major has truly been such a great experience and I'm so happy to have been surrounded by such smart and hardworking individuals! While it was challenging, this major has definitely prepared me for my future endeavors as I will be pursuing a Master's in Physiology and Biophysics at Stony Brook before I apply to medical school. Thank you to Dr. Fisher and Janice for holding it down and for keeping our major going. Without you guys, we would definitely not be here. Congratulations Class of 2020!!!! We made it and I know you guys will succeed in the near future."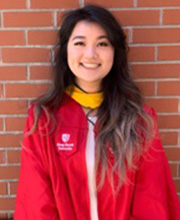 Kenneth Kleinhardt – cum laude
"When I started at Stony Brook, I was a chemistry major, for no reason other than I likedchemistry in high school. I found chemistry in college not so enjoyable. It was serendipity that I found my way into the pharmacology program. My experiences therewith moved me to pursue a career in medicine. Hopefully, I will be able to read this website as a doctor. I would like to thank my parents and grandparents for supporting me throughout college. I would like to thank Dr. Bogenhagen and Caitlyn Cardetti for allowing me to do research for the past few semesters."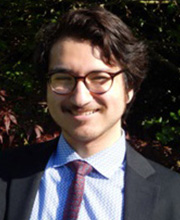 Kai Xi Lin – cum laude
"Thank you for allowing me to be a part of such a unique major and amazing class of 2020!"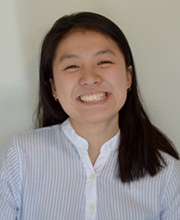 Eric Liu
"I would like to thank my parents and the friends I made in Stony Brook who supported me throughout my time here. Without them, my time at Stony Brook definitely wouldn't have been as enjoyable."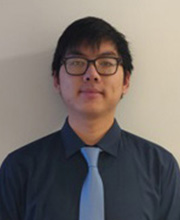 Briana McGovern
"Scientists have been missing the obvious conclusion that we can make tons of medicines more effective if we make humans more mouselike. A big thank you to my family, Dr. Solomon, Dr. Fisher, & Janice Kito for being there for me on this journey."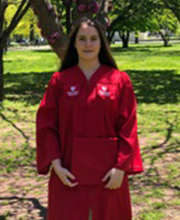 John Musumeci – Magna cum laude
"Graduating as one of Stony Brook's last pharmacology majors is an overwhelming honor. My plan for the next year will include a paid position in a developmental genetics research lab on campus, and a paid position as an adjunct professor for the undergraduate biology department. During this time, I'll be applying to medical school, where I will take the next steps forward towards my career. I could not have reached this point without the help of a few people who I'd like to thank. My parents love and support me in every way, and they let me stay at home the past four years. I was able to obtain a world class education while still eating dinner with my family at night. I'd also like to thank Janice Kito, our assistant director, for always being available and advising me along the way. It would have been much more difficult to coordinate my four-year plan and beyond without her, and I sincerely appreciate every meeting, email, and phone call. There's also Dr. Fisher. He was my professor for many classes, and I can say with confidence that I am going to miss his understandable teaching style, positive attitude, openness to students. I love you all and I will never forget my time at SBU."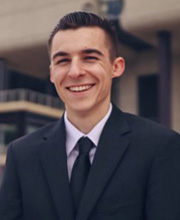 Mohammed Naqvi – cum laude
"First and foremost, I would like to thank my parents, grandparents, and little brother for all the different forms of love they have provided to keep me both grounded and supported in all facets of my life, throughout my entire life. And obviously the same goes for my other family and friends. I have always been prone to over-idealistic tendencies and this definitely applied to my perspectives on pharmacology as a freshman here at Stony Brook. In this case, however, my over-idealism could not have been more appropriate. From advising meetings with Ms. Kito and Dr. Fisher's lectures/office hours, to the set of all the professors I've had the privilege to learn from, my understanding of pharmacology became everything I thought it could be and more. And for that, thank you."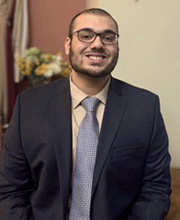 Ma Shengyang
"My four years in SBU had provided me a lot of exciting experience; living in a dorm with roommates, attending university events, having a part-time job…first time for everything. The journey was not smooth all along, but I am glad I was able to make it to this point. I would like to thank my family and friends who I spent fun times with; I also appreciate all the classmates and professors, especially those in pharmacology department, that inspired and motivated me to achieve and succeed academically.
This year, I am planning to prepare myself for PCAT, and hopefully with a decent score, I can get accepted into a pharmacology doctor program the following year to study the subjects further. Maybe one day, I will be able to make my very own contribution to the advancement of pharmacology."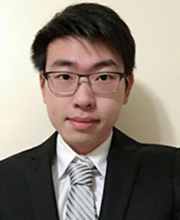 Alexander Szabo – Summa cum laude
"I was welcomed into the pharmacology department by a knowledgeable and passionate community of irreplaceable individuals that I came to know as my second family. The multitude of encouraging faculty, administrators, and staff fostered my enthusiasm as a student while the fascinating knowledge that I learned ignited my curiosity as an inventor.
Pharmacology has broadened my horizons, invigorated my passion for medicine, and helped me develop innumerable new medical innovations that I will use to redefine medicine in the 21st century. Pharmacology has given me the tools that I will use in implementing my future ambitions and has paved the way for my advance into medicine. As I stand at the precipice of the future, I will always remember the wonderful experiences and people that have made me the person that I am today."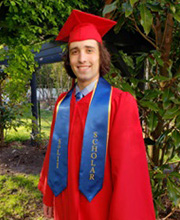 Zu Jie Zhang – Magna cum laude
"Propranolol is red, digoxin is blue. Acetaminophen wont be enough for this BOOHOO
Honestly, this has been one unprecedented college journey, but I am glad to have shared it with all of you. Following graduation, I intend to continue conducting research at the CNAP lab for a little bit before putting all my efforts into pursuing a career as a physician. But if there is one thing I have learned in 2020, it would be that a lot more surprises are in the waits. A big thanks to (Dr.) John Williams and Dr.VanSnellenberg for being there with me all the way and for always believing in me, even when things got really hard...it meant everything.
See y'all soon because I know this won't be goodbye."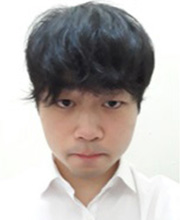 Anthony Zhu
"Many thanks to my parents for supporting me in my journey. During my time at Stony Brook, I have learned the importance of communicating and working with others. After graduating, I plan to further my education and acquire the necessary skills to succeed."