Faculty / Research
Craig C. Malbon, Ph.D., M.Div.
SOSc, FAAAS, FRSM
Leading Professor
Ph.D., Case Western Reserve University
Postdoctoral training: Brown University, Division of Biology & Medicine;
Department of Biology, Harvard University
Visiting Scholar, Princeton Theological Seminary
M. Div. (Ethics), Union Theological Seminary in New York City
Fellow, Center for Medical Humanities, Compassionate Care, & Bioethics
Department of Family, Population, & Preventive Medicine
631-444-3077
craig.malbon@stonybrook.edu
Signal Transduction in Differentiation and Development: Roles of Molecular Scaffold Molecules (e.g., AKAPs and Dishevelleds)
Transmembrane signaling involves two prominent pathways; one mediated by G-protein-coupled receptors (GPCR) and other by tyrosine kinases. GPCRs constitute a superfamily of ~3000 members in the human genome, including the well-known beta-adrenergic receptors as well as the Frizzleds, which are receptors for Wnt ligands that function in early development (see G-protein mutant mice below, control-left; Gai2-deficient from birth-right; animals are littermates). G proteins mediate aspects of development in human, flies, and zebrafish. Wnt signaling is a focus of intense research (see movie link). A central focus of the laboratory is to understand the mechanisms of signaling that direct early development, using mouse EC and human ES cells in culture.
Currently we are very interested in the spatial/temporal aspects of signaling and the roles of scaffold molecules capable of organizing complexes of protein kinases, phosphatases, adaptor molecules, and GPCRs in signaling. Dishevelled is a primary focus, as it orchestrates dynamic supermolecular assemblies of proteins (with Mr >5 MegaDa), termed "signalsomes", propagating Wnt signaling.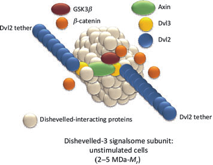 We also are interested in elucidating the biology, structure, and function of a prominent member of the A-Kinase Anchoring Proteins, AKAP12. This AKAP is a mobile scaffold that displays numerous docking partners (e.g., protein kinases, phosphatases, adaptor molecules, and other scaffolds) essential for cell signaling. The dynamic mobility of eGFP-tagged AKAP12 (0.45 MegaDa) is displayed the four-panel image below, in cells treated with beta-adrenergic agonist and observed over time (clockwise, from top, left-handed panel. We interrogate the spatial-temporal aspects of these scaffolds using "biosensors", fluorescence correlation spectroscopy, supermolecular (>2 MegaDa) steric-exclusion chromatography, proteomics and mutagenesis, providing a powerful platform for novel research in this fundamental area of cell and molecular biology.

Dr. Malbon is former Associate Dean, School of Medicine (1987-1993); founding University Vice-President for Research (1993-1997); and Vice-Dean for Scientific Affairs, School of Medicine (1998-2005) at Stony Brook. He directed a research laboratory (1978- pres.) and is Director-emeritus of the National Institutes of Health (NIDDK)-funded Diabetes & Metabolic Diseases Research Program (1986-2015). Prior to coming to Stony Brook, Dr. Malbon was trained at Case Western Reserve University, Brown University, and the Biological Laboratories at Harvard University. He is the 1997 recipient of the American Cancer Society Research Award, is an Honorary Member of The Biochemical Society (U.K.), and in 2004 Dr. Malbon received the American Cancer Society Award (Top 10 Researchers 1990-2000). Malbon was the recipient of the 2008 Goodman & Gilman Award from the American Society of Pharmacology & Experimental Therapeutics and was elected to the rank of fellow, AAAS that same year. In 2015, Malbon was elected as an Overseas Fellow, The Royal Society of Medicine (London). As a theologian, he was appointed as a Visiting Scholar at Princeton Theological Seminary (Princeton, NJ), received his M. Div. from Union Theological Seminary in the City of New York (focused in Ethics), and performed hospital-based chaplaincy training in the Catholic Healthcare Services of Long Island. He is an ordained minister in the United Church of Christ. He is the author of a best-selling book on the moral question of abortion, entitled Abortion in 21st Century America (Create/Space, 2013). His newest book, Assaulted Personhood: Original & Everyday Sins Attacking the "Other" (Rowman & Littlefield Publishers, 2020) offers a deep analysis of the powerful linkages between everyday assaults in America and its two "original sins," i.e., assaults on the indigenous Native Americans and assaults on Africans and African Americans derivative of slavery. His theological interests are in ethics, life, and society in 21st C America, with particular interest focused on end-of-life issues, right-to-die, and application of the moral theories of Immanuel Kant, John Rawls, and Dietrich Bonhoeffer.
Link to Center of Medical Humanities:
The laboratory has trained more than 75 doctoral students, postdoctoral fellows, and research scientists, primarily in the area of cell signaling. In addition, the NIH-funded NIDDK Institutional Postdoctoral National Research Service Award (NRSA) Program directed by Dr. Malbon has trained nearly 100 fellows, both the clinically-trained (M.D.) and basic sciences-trained (Ph.D., D.Sc.), in its 25 year history of continuous support. Links to lists of both Malbon laboratory alumni and of DMDRC NRSA alumni (selective, not exhaustive) are provided below.
DMDRC office, Ms. Rexa Whitley (voice phone + voice mail) 631-444-3078;
CCM office (voice phone + voice mail) 631-444-3077;
Laboratory voice phone 631-444-3639;
Email address: craig.malbon@stonybrook.edu